#BrownSugar with @abitofbrownsuga Angie Cee (BK) | Jermaine Lewis
20 March 2014 Brown Sugar
---
"How Much More You Need?" A Brown Sugar Interview with author, Jermaine Lewis
If you follow me online, you know I rarely read fiction. I haven't read an entire work of fiction since undergrad, I just prefer non-fiction writing. I made it a goal however to revisit fiction in 2013 and I'm staying with it. A big part of my return to the "world of make believe" happened because of my good friend, author, poet and barber JERMAINE LEWIS. As a barber he cuts hair with precision, and as a spoken word artist and writer he spits words with an equal amount of skill and passion.  Mr. Lewis, known as J LEW to most has quite a way with words. More than that he uses his social media to draw in readers and keep 'em wanting more. He released his debut novel "How Much More You Need?" on Valentine's Day. I recently spoke with him about writing, his readers and more.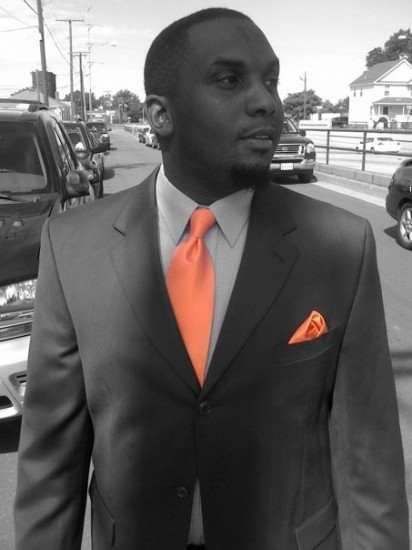 BROWN SUGAR-When did you fall in love with hip hop?
JERMAINE LEWIS-I remember falling in love with hip hop in the 5th grade.  I was widely known for being a "church boy" with good reason.  Gospel music was the only thing I ever listened to.  In fifth grade my whole school had to learn the lyrics to "Self -Destruction".  I love the words, the force and power in which they were rendered.  I became a lover of words and word phrases that rhyme at that moment.  I later fell deeply in love with the likes of Lauryn Hill, Black Thought, Nas, Mos Def and Talib Kweli, basically those who wanted to teach me something while they entertained me.The list is much longer but. . .
BROWN SUGAR-So I met you as a barber and then learned you were a writer and a performer. How do you balance your professional and your performance life?
JERMAINE LEWIS -I balance my life in a very simple way.  I cut hair by day and perform at night.  Some would say that I perform all day.  The barbershop has become an interesting place to train and perfect my speaking craft.  Captivating a barbershop with the spoken word makes performing at all other venues seem as easy and carefree as a person feels walking through a park on a sunny day singing along with their favorite song on their iPod.  Singing uninhibitedly free because they believe that no one can hear them.  It's a beautiful feeling when people are purely entertained by you as a result of practice and effortless execution of what it is they expected to see from you…
BROWN SUGAR -How long have considered yourself a writer?
JERMAINE LEWIS -To be honest, I really don't consider myself a writer as not to offend those who have really studied the art and have replaced their hearts with a pen and pad and their blood with ink.  I don't really know all the rules.  My sentences still run on and are spliced with commas.  I rest on the fact that I must write in order for the story to reach the masses.  I don't write right, but I believe I am one of the best story tellers to ever live.  A man told me once, "It's the story that the people want!  We can find a million people to write it right."  I just do my best to make sure that the writing doesn't get in the way of the story. .
BROWN SUGAR -Can you remember the first poem you wrote/performed?
JERMAINE LEWIS -I can't remember the first poem I ever wrote because I have been writing your standard "Hallmark Greeting Card" poetry since I could put thoughts and sentences together.  The spoken word pieces on the other hand.  The pieces that I would memorize to perform in front of an audience, I can remember like it was a few hours ago.  In the year 2000 on a Wednesday night I heard a poet named Hamza of the Seventh Sun captivate an audience with his words and decided on that day that I would do my best to be able to do the same.  Knowing even then that I was a great story teller, I wrote a story that just happened to rhyme and named it "What I Saw."  I wrote and performed that piece to receive thunderous applause and I knew that performing poetry was one of the things that God had given me tremendous ability to do at a very high level.. .
BROWN SUGAR -You have quite a following on fb and via email regarding several of your writing series. What is the most common reason fans give you for loving your work?
JERMAINE LEWIS-They love the connectedness of all of the characters.  Everyone and every action seems to affect another person in some way, shape, form or fashion.  They love the redemptive power of Jesus Christ that finds it's way into each life and story line without being "preachy or holier than thou."  They tell me that they love the fact they know each character.  The readers appreciate the real pain, real drama, real relationships, real intimacy and the real love.  They say that they are able to find themselves in the pages, see their issues in a particular character, apply the actions of the character to their own lives and find resolution or at least see their lives from a different angle.. .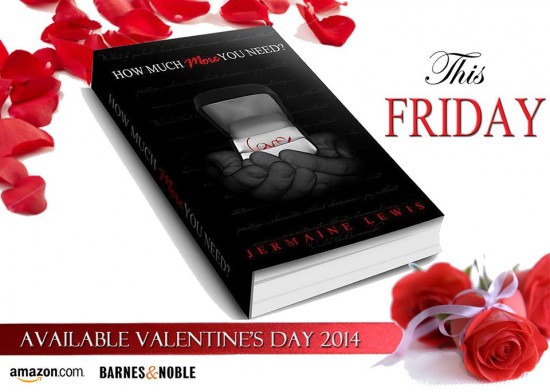 BROWNSUGAR- I had the privilege of previewing some of "How Much More You Need?" it is so addictive and hard to put down. Is there a technique you use to hook your readers?
JERMAINE LEWIS-There is definitely a technique used to hook the readers.  I try to pull them so far into a situation that they can't sleep without finding out what will happen next.  I put a gripping cliff hanger at the end of each chapter that will force a person who cares about the characters to be unable to stop without finding out what happens next, only to run into another situation they will find it hard to walk away from. I try to recreate these addictive situations chapter after chapter.  Before the readers know it there are no more pages to turn. . .
BROWNSUGAR- In short the novel is about our expectations when it comes to love. What do you want readers to take away from the experience?
JERMAINE LEWIS I want readers to take away from the first novel that in a lot of cases they already have all they need to be happy.  I want them to slow their lives down, take a survey of all that they have been blessed with.  I want them to ask themselves, "If I have joy, do I really need more money?  If I already have power do I really need prestige?  If I have a loving commitment do I really need a diamond ring?"  I then want them to ask themselves the questions in the reverse to really realize the point being made.  For example, "What if I had money, but no joy?  What if I had prestige, but no power? Or what if I had the biggest diamond ring in the world but yet no commitment?"  I just want people to finish this reading and be a little more appreciative of what they may already have.  I want them to ask them selves, "How Much More Do I Need?"
BROWNSUGAR- How much of your real life seeps into the lines of your pages?
JERMAINE LEWIS I feel like the only way that I can connect to the reader is to write from extremely real places.  I can answer this question easily.  Everything I write comes from real life.  It's all personal to me.  I have either experienced the situations myself or been really close to them.  All of them are amazingly real.  I am a believer in that reality is indeed stranger than fiction!
BROWNSUGAR -Any encouragement for writers out there who would also like to publish their work?
JERMAINE LEWIS -I would encourage a writer that wishes to publish their work to write in front of a live audience.  I would suggest that they get a couple of friends they trust to read their work as they went along.  Having friends take the journey with them will prevent them from creating a world that only they enjoy.  The daily feedback from honest friends will also keep them on the right track.  I also recommend that if they feel that their own story is so amazing that they write it as a fiction or write it and not publish it until they have done something of note.  Until they are "somebody" no one will care about your story.  That's not true, some will care, but I don't know if there will be enough people to really make them feel successful.   If their own story is what they want to write, I say write it!  They will know when the masses will want to read it. . .
BROWNSUGAR -What can readers look forward to from Jermaine Lewis in the coming months?
JERMAINE LEWIS- Please stay tuned from more work from me.  My goal is to publish a book every four months for the next few years.  My next title will be available in May 2014.  A person can keep up with my projects by visiting JermaineLewis.com
Info on all things Jermaine Lewis- JermaineLewis.com 
His debut novel How Much More You Need is available in print and digitally- http://www.amazon.com/How-Much-More-You-Need/dp/1484843177
Brown Sugar is written by Angie C for Fresh Radio. Follow her on Twitter @abitofbrownsuga and Instagram @bitofbrownsuga
Like us on facebook- https://www.facebook.com/BrownSugaronFreshRadio
---