Brown Sugar| Dupp and Swat Charlotte, N.C. By @abitofbrownsuga
13 October 2013 Brown Sugar
---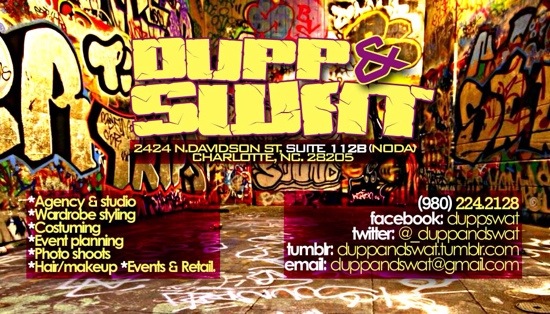 I moved to the Charlotte, NC aka The Queen City in May 2013. I haven't fallen in love with a city this quickly eva! Charlotte has a perfect blend of abstract expression, urban grit and country charm. I gravitated to the Uptown section of the city but soon discovered the Southend and NODA areas as well. It was in NODA that I wandered into dupp&swat! First thing I saw were 90s HipHop CD cases lining the walls ! Then there was art hanging and accessories and clothes for sale from local designers! It was like art heaven exploded and dropped into this spot. When I spoke Davita aka Swat for this piece she told me the space is a glimpse into her mind! Well listen her mind is DOPE! Davita and her brother Dion aka Dupp run the business as it oozes with passion for music, arts and fashion To speak to either of the entrepreneurial siblings is to LOVE them. Each different but clearly cut from the same amazing cloth. My most recent show had our rehearsals in their space amongst the clothes, the art and the essence of hip hop. It was at that moment I knew the Brown Sugar readers needed to meet them and their space.
Brown Sugar- As always in homage to my column's namesake "When did you fall in love with hip hop?"
Dupp&Swat – I fell in love with Hip Hop fairly late. My two older sisters were always looking at music videos, imitating Salt and Pepa. I would much rather be outside playing sports and riding the bike. I remember walking up the steps and hearing Eric B and Rakim blasting from the television, "make em make em make em clap to this". Right then, it was a wrap!! Been listening, stealing, borrowing, buying, and supporting Hip Hop ever since.
Brown Sugar– That's what's up!!!
Brown Sugar – Your space is called "Dupp and Swat" How did you land on THAT name?
Dupp&Swat – Everyone always asks where the name come from. Pops deserves all the credit as he blessed us with the nicknames. We went through a handful of other names but nothing compared to dupp & swat.
BrownSugar-In the 4 months I've been in the QC Dupp & Swat has hosted rap ciphers, theatre rehearsals, wardrobe styling, art shows and more. IM SO HERE FOR THE VARIETY OF EXPRESSION!! What made you decide to use your studio the way you do and what , if any, is your favorite facet of your business?
Dupp&Swat – It is a creative space through and through. There are no boundaries when you are creating, so there are no boundaries at dupp & swat. It is a place where the overlooked, the misunderstood, the famous, the nobodies, and all the in-between can come represent Charlotte; whatever it is they do. Anything with music and art is easily a favorite.
BrownSugar-How is it running a business with family? Dupp&Swat -When we were growing up, we had to take turns washing and drying dishes, we had to take turns cleaning the house, helping with laundry, etc. It's the same thing just on a larger scale. It's just an extension of our family duties. The frustrations, the love, the care, and the success; at the end of the day, that is family looking at you on the other side of the table
BrownSugar-What advice would you give for those interested in starting an arts focused business?
Dupp&Swat –Don't do it because it's a fad, because it's in, because you think you'll get rich. Do it because you love it, because you breathe it, because 20 years from now, you will still be doing it no matter what facet or category the "art" you do fits into.
BrownSugar-What does the future of artistic expression look like here in Charlotte?
Dupp&Swat –Charlotte is blossoming into something that the larger cities will take note of. It's untapped; it's raw, and full of talent waiting to be showcased. It would be wise to get your ish together now because it's going to blow! Charlotte is oozing with creativity.
BrownSugar-What can fans of Dupp and Swat expect for the remainder of 2013 and early 2014?
Dupp&Swat –Movement, movement, movement and more
movement. We have a lot in the works that the city will
embrace. New places, better events, and…. I better stop now,
can't give too much away.
BrownSugar- Ha! No doubt guess they'll have to come
through and see!
And that is exactly what I suggest you do, because as much as we try there's no way to explain dupp&swat unless you EXPERIENCE it in person.
Follow dupp&swat online and peep their business card below! www.duppandswat.com Twitta @_duppandswat
Facebook- DuppandSwat
Brown Sugar is written by actress, artist, educator Angie C for Fresh Radio
Twitta/IG @abitofbrownsuga
Facebook- www.facebook.com/brownsugaronfreshradio
Email abitofbrownsugar@gmail with story ideas, interview and event requests.
.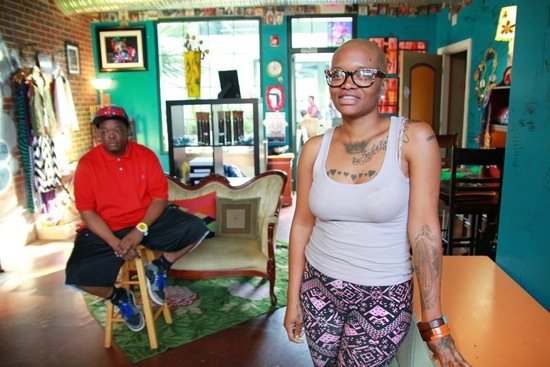 ---