#BrownSugar "8 Lessons from "The Shawshank Redemption"
11 September 2013 Brown Sugar Fresh Radio
---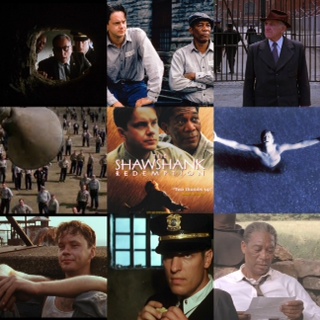 8 Lessons from "The Shawshank Redemption"
By Angie C- Brown Sugar 
I love movies! Follow me on twitter that will become pretty evident. "The Shawshank Redemption" starring Tim Robbins and Morgan Freeman is one of my favorites. Shawshank came out almost 20 years ago (19freakin94 wow), yet every time it I watch it I learn something new.  It's a modern day classic. Well written (by Stephen King, yep), well-acted and well directed (by Frank Darabont). The last time I watched it I was struck by one particular scene. So I decided to catalogue some of the "lessons" one can learn from a journey through Shawshank. Plus this was probably the 1st time most of us fell in love with Morgan Freeman's voice over talent and decided we wanted him to narrate our lives, sheesh. Okay so here we go- Left to Right
Never forget that this is how ppl look the moment you do something they had NO clue you could do.
Sometimes you have to sit back and observe. Lots to be learned from just seeing how things run.
Don't be so used to a negative situation that you have no clue how to live outside of it. "Brooks was Here"
Music really is THAT powerful.  Don't be afraid to pause and just soak it in. Great music at the right time can and will cause a paradigm shift!
CENTER –Um just the The Movie Poster, stare at it or move on lol
Never hesitate to take a moment to embrace clarity after you go through some ish (literally for Andy) Water/Rain/Oceans naturally create reflective moments. 
There's a simple pleasure in doing something for others. Sometimes you have to use your talents to help people in a way they could never have orchestrated on their own.
Corruption is everywhere. "Power corrupts and absolute power corrupts absolutely". Never let them get you off your game.
Follow Through. Make a plan for life AFTER your current negative situation. And when you get the opportunity to start fresh, TAKE IT. 
Brown Sugar is written by Angie C. Twitter @abitofbrownsuga 
Email story ideas, interview and event coverage requests to abitofbrownsugar@gmail.com 
Like us on Facebook- https://www.facebook.com/BrownSugaronFreshRadio
---
DJ Bee Angie C, Angie Cee, Brown Sugar, Morgan Freeman, Shawshank Redemption