Brown Sugar review of Neil Drumming's Big Words
26 August 2013 Brown Sugar
---
A Brown Sugar review of Neil Drumming's BIG WORDS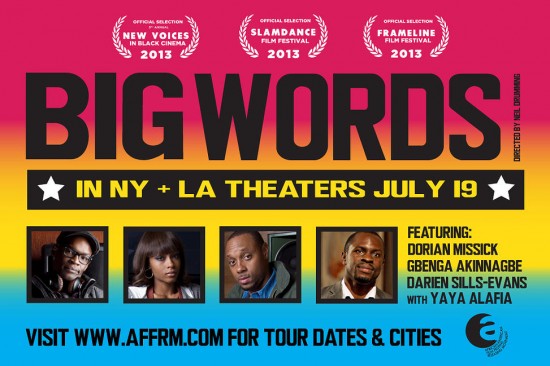 What were you doing on November 4th 2008? Most people can tell you about their movements on that historic day hour by hour. But for many people the election of Barack Obama was a backdrop to an ordinary day. One filled with ups, downs and lots of in between. Neil Drumming the writer of BIG WORDS decided to set the film on that historic day.  Fade in on rotating vinyl beneath the fingertips of DJ Malik one third of the fictional but familiar feeling hip hop trio DLP. Unlike a regular film Drumming does not quickly fade out the heavy beats and cuts. He lets it rock for a good 5 minutes, and it's beautiful. DLP is Big Words, the heady lyrical genius stuck in a job he hates, Jayvee da Mac the formerly flashy emcee now gay professional , and DJ Malik the turntabilist attempting to keep The Golden Age of hip hop alive collector's edition by  collector's edition and joint by joint.
The indie film (Drumming's directorial debut) finds our 3 lead characters 10 or so years removed from a career that, almost was.  How do you move on when your potential was cut short? When you know you could have blown up given the right opportunity? The members of DLP answer these questions in a display of some of the best storytelling and well written dialogue I've seen in a while. The actors' faces are familiar but none super famous. And you know what? That's fine. Chris (Gbenga Akinnagbe) from "Chris and Snoop" on the Wire is in it, Jean Grae plays the girlfriend of DJ Malik (and she's dope) as well as Yaya from Top Model and The Butler. Dorian Missick and Darien Sills-Evans (who is HILARIOUS) round out the cast. The story didn't need big names to sell the fact that it's a timely piece with solid production value.  Hip Hop's original fans and performers are in their 30s, 40s and what not, we have a story to tell and what better place than the big screen?
I saw the AFFRM (African American Film Festival Releasing Movement) distributed film at a Charlotte Black Film Festival screening. It's already hit LA, NY, DC and ATL this summer. Dj Applejac of ATL was on one of the post screening panels. He and I spoke about the film and compared notes.  In response to love and hip hop he looked at the relationship between Jean Greasy's character and her love DJ Malik. Malik has no actual employment outside of spinning vintage vinyl in his room, while Grae works tirelessly. Applejac says,  "For whatever it's worth though, AT LEAST he had Jean. She didn't always LIKE him, but she didn't stop LOVING him. So many guys would KILL for someone to believe in them and encourage them that way. It don't happen that much though…" Then we spoke about the biggest theme in the movie, dealing with a dream deferred. DJ Applejac again, "…at MY age, it's like when do you just be like "it's over" and when do you say "don't give up"??? The worst thing in the world would be to give up when your breakthrough's right around the corner… worse still, is to look back on your life and feel like you wasted it "tryna get on…" Such a thin line sometimes…" *deep sigh* He said a mouthful right there and so does Big Words.
For anyone who loves hip hop, good writing and character development youll be right at home watching this film.  I'm here for complicated on screen examinations of our beautiful brown men and BIG WORDS gives us plenty of that. There are a few more planned screening dates here in the States and around the globe. So please check for it and support indie films and hip hop all at the same time.
Film info- http://www.affrm.com/big-words/
To request a screening of the film in your city visit this link and let them know. http://www.bigwordsthemovie.com/#!tickets/c1x78
Brown Sugar is written by @abitofbrownsugar ,Angie C. Like us on Facebook https://www.facebook.com/BrownSugaronFreshRadio 
Email abitofbrownsugar@gmail with story ideas and event/interview requests.
---
DJ Bee Angie Cee, Big Words, Brown Sugar, Fresh Radio, Neil Drumming