#BrownSugar "Locally Grown, Nationally Known"- A Brown Sugar interview with Derek 32Zero
23 April 2013 Brown Sugar
---

 I don't cover a lot (well any lol) of "local hip hop" on this column but that doesn't mean there isn't any worth covering. To me talent is talent no matter where it originates.  Talent is definitely the reason we're featuring Virginia emcee Derek 32Zero. This emcee combines substance with style and energy in his brand of hip hop. I vividly remember the 1st time I saw him perform live years ago. Well he's still going strong and has new music on deck for fans old and new. Check out our conversation.
BROWN SUGAR- When did you fall in love with hip hop?
DEREK 32ZERO- When I met Sanaa Lathan  (laughs) no, seriously, I would say specifically Big Daddy Kane's "Ain't No Half Steppin" that was the first song I knew front to back. I actually did the write down, pause the tape method, and kept reviewing it like a study guide till I got it right.
BROWN SUGAR- Ha! Dope lol
BROWN SUGAR –How long have you been an emcee?
DEREK 32ZERO- Since I graduated college, the University of South Carolina, go gamecocks! Ha. I had been rhyming, writing and performing since I was in middle school. But that was just rapping. I became an emcee in college though for sure. It was a definitive moment in my life, where I found my voice. It was a moment when I was also finding myself on a personal and spiritual level.  I truly began to understand what it took to be an emcee from battling, going off the top, freestyling, recording, songwriting, and performing.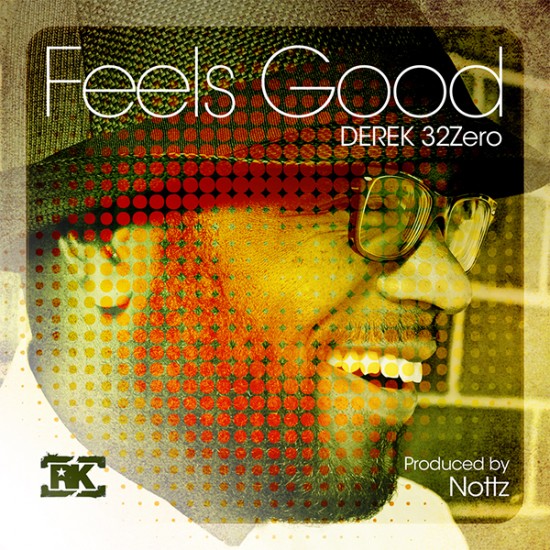 BROWN SUGAR- Describe what inspires you & your creative process music wise.
DEREK 32ZERO- Life inspires me. My music is a direct reflection of my thoughts and emotions, what I'm going through in everyday life. What I observe, my family, children, job situation, my faith. The creative process is very therapeutic for me. Sounds corny (laugh) but once I have an opportunity and a way to "get it out" it feels so good. Check the "feels good" record on starchpress.com (laughs). And hopefully, the honesty of my music will inspire others as well. Musicians, artists, movies, books, experiences all influence how and what I do. I feel as though I have a responsibility to be as accurate and skillful as possible. Everybody can't create, but most of us share the same experiences, wants, and/or desires. I strive to be that voice for the people.
BROWN SUGAR- Is there an artist that you would still like to work with?
DEREK 32ZERO- Hip hop artists: Andre 3000, Black Thought, Ghostface, Sean Price, Mos Def (Yasiin Bey), Cee-Lo –the emcee.  Those are off the top of my head.
Other genres: Jay Kay from Jamiroqui, Lenny Kravitz, Anthony Hamilton, Jill Scott, Erykah Badu, Mary Mary, Stevie Wonder again just off of my head the top. The great and amazing and crazy part about my experience, however is that I've had the opportunity to work with some of my favorite artists already like Bilal, Pos from De La Soul, Lady Mecca (ladybug from Digable Planets,) Skillz, Nottz of course, Jon Bibbs, Hezekiah, Truck North, House Shoes, Saskwatch: (my favorite emcee and fellow collaborator and Ugly People crew member), Dwele, Dj Bee, Dj Lowkey. Not bad for at-risk youth counselor. (Laughs)
BROWN SUGAR- That's quite a list! Lots of people are trying to get to where you are. What are your 3 tips to an aspiring emcee?
DEREK 32ZERO-
Respect yourself as an artist and demand respect. Often times, emcees are given zero respect, and definitely less respect than singers. Less or no pay for shows, doing shows with no sound checks, doing promo shit for "exposure," or "for the love," don't work to win the state championship i.e. "I'm the best in Norfolk, or VA" work to be the best worldwide, having ciphers after shows with people that couldn't get on the bill!!! Really? Have u ever seen an r&b cipher after a show? Hahaha, etc., etc.
Practice, practice, practice. Songwriting, freestyling, show tapes, studio work, attacking the beat from different angles. Practice in the car, in the bathroom, while u fucking, at work (laughs). You have to put time in to get positive results. Stay diligent and good things will happen.
Know the history. Listen to those that came before. Research. Get into all genres of music. Don't limit yourself to "what's popular." Today that means "what's dumb and dumber." And this is more so a life lesson as well. Have no fear. Too many people don't or cant. Be the one who does. And have a plan, goal, and measure of success. Many of my favorite artists won't go platinum or win a Grammy, but their influence is so much greater than any accolade they could receive.
BROWN SUGAR- Word! And um yeah interesting practice places lol
BROWN SUGAR-Any embarrassing stage stories that you wanna share?
DEREK 32ZERO- At 13 I was part of a fake BBD group. We performed at Norfolk State University homecoming and got pennies thrown at us! (Laughs) I've forgotten lyrics before, stepped on and knocked chords out while performing, but that's part of the "growing pains." The key is that with so much preparation, confidence and fearlessness I have for my craft, things happen and really make little difference. One time my group, The U.G.L.Y. people performed at an open mic venue and the mics, lights, and sound went out during the performance. But we didn't stop, we didn't flinch, we practiced and practiced and were unflappable to the point that when we finished people were walking up to us asking "how did ya"ll plan that? That was dope!" I'm thinking, how did we plan for everything to go out? (laughs) That just shows that resilience and belief we had and I still have to fight and spread this message. And I'm only human, so things will happen. I can't really think of anything that would embarrass me now.
BROWN SUGAR –What's the state of hip hop in VA & in Hip Hop as a whole?
DEREK 32ZERO –There are skilled emcees. There are very unpolished /wack emcees. There are average emcees that are popular due to backing and funding. There are a zillion and one rappers, studios and producers alike. There's always hope, but the ability to make music is so much easier now. All u need is a computer and some paper, cash, dinero, for a computer program and you're good. Hip-hop has always been a reflection of black culture and what is accepted. Right now, being a dumb nigga is cool. And being a dumb nigga that really can't rhyme is even cooler. So be it. My job right now is to continue doing what I do and teach my children. Hopefully I can reach someone else's family too in the process.
BROWN SUGAR –What can fans except from you in 2013?
DEREK 32ZERO –Hopefully this "I'm Not Bargaining" project with Nottz will come out. I'm also working on a project with Jon Bibbs under the greatest band name ever, "The Fanny Pack All-Stars." I'm also working on a new solo project entitled, "Sunny Side of the Street." Working on a project with a French producer as well. Just trying to build the brand. So I'm still continuing to write and work and hopefully provide people with something that they can listen to and keep for a lifetime, not just for the moment. Oh yeah, and I'm coaching my son and daughter's soccer and basketball teams and I'm looking forward to kicking butt! (laughs) And staying married to my beautiful wife, and not producing any more babies. (laughs). That's it. The end. Thank you for your time and continued efforts to support the arts. Peace.
Find Derek 32Zero on twitter @derek32Zero & FB Derek 32Zero
Listen to "Lift Em Up" featuring Talib Kweli HERE 
Listen to "Feels Good" HERE 
Brown Sugar is written by Angie C @abitofbrownsuga on Twitter.                   
Email abitofbrownsugar@gmail for event coverage, interview requests, as well as story ideas. 
---