Top 10 Reasons to Revisit all things "Brown Sugar"
21 August 2015 Brown Sugar
---
Brown Sugar Moments I LOVE!  "2002 Son Ren & Ten Taking Over" Look out World"! *drops Flex Bomb*
The film Brown Sugar was released in 2002. Fresh Radio started in October 2010 I started writing a culture column on the station's site shortly thereafter. When we discussed the name for the column Brown Sugar was the first and last thing that came to mind. 8 years after the film had been released and it was still present in my thoughts. Lots about it it stayed with me. Lines, laughs, and love,there are lots of reasons the film appealed to me. I love Syd Shaw's character and her love for hip hop. I started most of the interviews on the site in the same way that she does in the film as a hat tip to the character, "When did you fall in love with hip hop?". I rewatched the Sanaa Lathan & Taye Diggs urban classic recently and remembered why I loved it.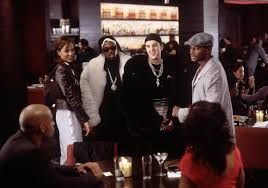 Hip Hop Dalmatians Bit as commentary on lames  – Such a good example of how wack gimmicks in commercial hip hop end up with a deal. I laugh and cringe  everytime I think of them. At a moment in hip hop where commercialism had taken root and "we" weren't necessarily the ones greenlighting acts Ren & Ten represent corny hip hop at it's worst. Acts that so easily got on because some A&R person thought they would "sell" smh. Mos Def's faces in that 1st scene we meet them are sooooo funny. "Ren & Ten you know we represent that whole unity thing. He dont know dun sonnnnn,he don't know".

The opening sequence where iconic Hip Hop Artists sharing when they first fell in love with the art form is perfect.Have you read the Cast list? Sheesh so many hip hop greats involved in the project in some way. It was dope.

Mos Def's character Cabbie being shy & adorable yet gutter. His comedic timing as an actor and his genuine love for hip hop came together perfectly. Him crushing Queen Latifah's character is just YES!

The script is so well written in the way it compares hip hop w/ Syd Shaw's 1st love w/ Dre to the way Hip Hop culture developed. It's like they took I Used to Love H.E.R and made a love story out of it (or an entire film some could argue *sips tea*)
Quotes and Moments
"It's a massager…from Brookstone" hahahahaha

Dre describing the perfect woman- "You know Brown Sugar- a woman that's fine, smart, classy but not a snob, hella hella sexy but not a hoe". Ha

"You wanna keep it real go to Rawkus we keep it profitable" <~ well damn if that aint the industry as a whole today *pours out liquor for Rawkus*

"The union of hip hop to the main stream is  a hard thing to imagine "- Syd Shaw I struggle with this often when I see the companies built around rap with no love for the origins of the culture or blackness in general.

When Taina (Christina Vidal) from Nickelodeon made the hella small cameo as Sid's assistant and all the 90s kids quietly cheered lol
"Like the grinch who stole hip hop, what you gon go back to whoville & give all the hip hop whos they  publishing? Cabbie laughing hard at Dre when he decides to leave Millennium Records
Dre & Cabbie's back & forth throughout the film cracks me up. Realy good chemistry from Taye Diggs who is normally hella corny.

My fave description

"the perfect verse over a tight beat".

If the dude puts that in the proposal or his vows I will have all the sappy tears and feels.

…like a rap coach? Like. A. Rap. Coach. Kelby (Boris Kodjoe) to Cabbie (Mos Def) while he's spitting lyrics at the party.  
Music from the film or with Brown Sugar in it because I like how it soundsssss hearing my name on a track-
L.L. Cool J – Around The Way Girl
Mos Def – U Remind Me (Brown Sugar)
Black Star – Brown Sugar Raw
Erykah Badu f. Common "Love Of My Life"
Brown Sugar is written by Angie Cee (writer, actor, educator, vocalist)  for Fresh Radio- Follow online Facebook.com/BrownSugarOnFreshRadio IG @bkBrownSuga #BrownSugarApproved Email abitofbrownsugar@gmail.com for interviews, event coverage and more.
---