Brown Sugar with Angie Cee (BK to QC) #Eargasms
3 August 2015 Brown Sugar
---
EARGASMS SUPPLIED MONTHLY- Expectations of Sweat and nostalgia are mandatory *Girl 6 Voice*    – Angie Cee
Cup in hand, hips in motion, other hand in the air, eyes glued on DJ. I could be describing any night out in america except I'm not. Because at this event the DJ is spinning vintage hip hop and soul cuts while the 30 and over crew vibes out. There are a group of vinyl (repeat slowly viiinallll- the digital record's grandma) loving music enthusiasts changing the landscape of nightlife. At these parties you'll find folks rapping and singing along to classics from the 1970s- to the early 2000s, and on a good night they dance the steps as seen in the music video for their favorite song. It's amazing and nothing like the typical club experience. My go to source for this experience is typically Fresh Radio's Fresh Fridays in Virginia. But recently the Fresh Radio crew took a trip down to the A. On a hot July night  in Atlanta two deejays at the forefront of this music lovers movement combine superpowers. DJ Bee, Fresh Radio founder and creator of Fresh Fridays traveled down to celebrate DJ Jaycee's (v103 & Fresh Radio)  birthday. The events was Eargasms: Cancer Season 2. Music & turntablism lovers were in the building for sure. Eargasms, Jaycee's brainchild, is a monthly ode to good music and real deejaying held out at The Sound Table on Edgewood. While each month has a different theme partygoers can expect an amazing array of tunes from deep in the crate. You know the classic cuts. Jaycee was the featured guest last year at DJ Bee's 40th Fresh Friday Birthday party so it was only right that Bee spin for Jaycee's birthday this year.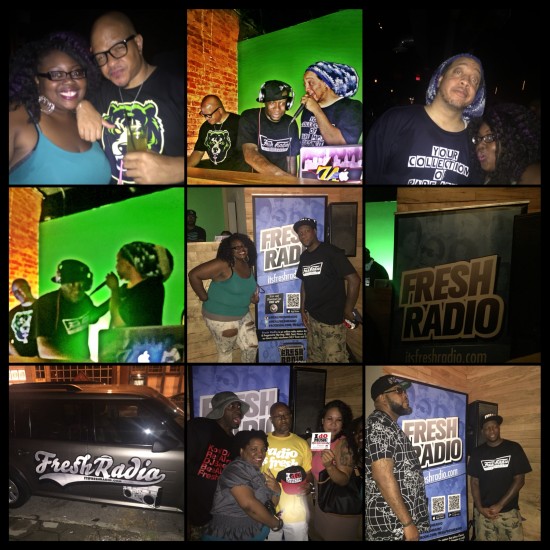 People gathered from all over the Atlanta Metro area, Charlotte, New Orleans, and of course VA and the event was packed wall to wall. Bee played everything from Biz Markie  to Nirvana to Michael Jackson while ATL's DJ Applejac held down the mic. Some of those classic soul cuts Beesus spins end up being  extra familiar when the audience slowly realizes it's the sample that a hip hop track is built around. For example, Bee played Creative Source's  1975 joint "I Just Can't See Myself Without You"  into Freeway's "What We Do" which samples the 70s classic. What We Do is a Fresh Radio anthem by the way. The crowd of course went nuts. Moments like that involve, transition, thought, mixing, reading the crowd and more. For deejays like Jaycee and Bee this is what they breathe. They live for moments where they can teach a mini Hip Hop Soul history lesson without the crowd missing a beat. It's magic and that night at Eargasms had so many moments like that.
Later in the night when the birthday guy took over the mic to thank the crowd and salute Bee he shared from the heart about his love for music and  the art of turntablism. I asked DJ Bee to describe how nights like that feel he responded "It's always good to play in front of people that just want to hear me rock! Not expect me to play something or request, but trust me to keep them moving and happy enough to forget their troubles temporarily!". That pretty much sums it up. If either of these events are happening in your area be sure to get your tickets. And if the TWO of them are ever rocking the tables TOGETHER get your tickets EARLYYYYYY and make sure your phone is charged lol . It's great to know that those born in the 60s, 70s and 80s can find an outlet to party, rap, dance, laugh, and sing off key loudly with like minded folks. Eargams and Fresh Fridays provide a very necessary alternate nightlife experience for people. For more info on either event series check the links below.
Event Info- https://www.facebook.com/EargasmsATL & http://itsfreshradio.com/events/
Follow- DJ Bee on twitter/IG @djbeeonline Jaycee twitter @djjaycee
Brown Sugar is written by Angie Cee for Fresh Radio- Twitter @abitofbrownsuga IG @bkbrownsuga Email abitofbrownsugar@gmail.com for event coverage, interview requests and more.
---
DJ Bee Angie Cee, atlanta, Brown Sugar, dj applejac, DJ Jaycee, Eargasms, Fresh Radio, the sound table