2014 #BrownSugarApproved Albums by @abitofbrownsuga
11 December 2014 Brown Sugar
---
2014 #BrownSugarApproved Albums!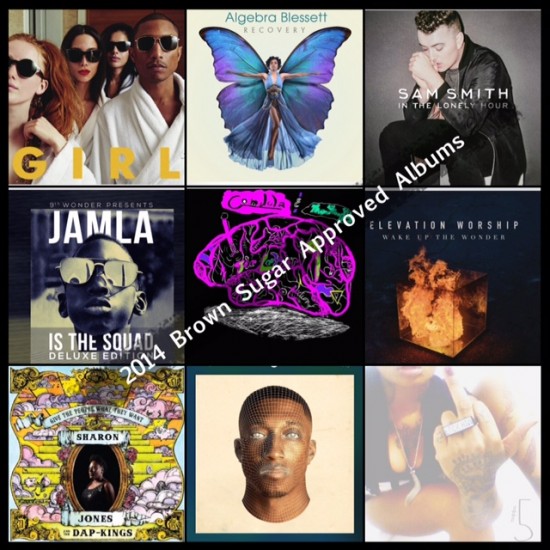 I listen to a lot of music. That is an understatement but it will do. From Hip Hop to Rock Soul to things that don't have genres I'm pretty much listening to music all day. Here's my wrap up of the Brown Sugar Approved albums from the year that was 2014.
Jean Grae # 5– If your rap name is a super hero then you should be pretty frickin amazing. Jean is my friend in my head and she's in my Top 5. In 2014 she made inroads into everything from comedy, to starting a cooking column on Jezebel's website. I'm a fan of this lady's brain. Just when you thought she was done showing us her layers of awesome out came # 5. 5 is an EP of sexy time music where Jean was SINGING, and singing well. I like # 5 and I think you'll dig it too.
Faves- Underneath You, and Nuthin were stand outs for me.
____________________________________________
Condola & The Stoop Kids The Letter 9– Clair Huxtable's daughter Condola Rashad is a thespian and a dope singer. She released a funky rock soul album this year and it got plenty plays on my ipod. I loved the theatrical nature of some of the songs. The intro is vocally genius and the whole project felt like she was having a really good time. Great writing and relevant subject matter. I'm here for it.
Faves- Stoop Kids Intro, Hej Hej, & Pictures Don't Lie.
______________________________________________
LeCrae's Anomaly- I wrote on piece on LeCrae shortly after his first 106&Park appearance. I stated that his brand of hip hop was necessary on the current landscape. So when Anomaly was released I picked it up thinking it would be cool but the album exceeded my expectations. The tracks take the listener to the intersection of social justice and self-improvement. It's great to get you hyped, it puts you in deep though plus I can play the whole album in my classroom, always a win.
Faves- Welcome To America, All I Need Is You, & Broken featuring Kari Jobe
_____________________________________________
Algebra Blessett's Recovery- Her debut Purpose has been in my permanent rotation for years. So when I learned there was a new album coming out I was torn, I wanted it to be amazing but I wondered if I would connect with it like I did the 1st album. I gave it a Brown Sugar listening party to see how it was. I dug it. I like when artists take time to experience life and develop music rather than just pump out studio crap to have a presence. Algebra has an authentic and loyal fan base and we appreciated what came from Recovery. It's r&b, it's soul and it's awesome.
Faves- Writer's Block, Paper Heart, & I'll Be Ok.
9th Wonder Presents Jamla is The Squad- Somehow between being a Harvard Fellow and now teaching at NCCU producer and DJ 9th Wonder put together a compilation of dope emcees & singers from his Jamla label and elsewhere. Really nice riding music.
Faves- Be Inspired (Pete Rock, LeCrae, & RAPSODY) ,Love Unconditional (Heather Victoria & Jadakiss), & God Willin (Actual Proof & TP)
______________________________________________
Pharrell Williams' GIRL – VA's golden one did not disappoint with an album that was hip hop at its heart re: content and sampling but packaged in Pharrell's own genre, a little R&B, a little electronica, all dope. This album also holds my most played track of the year LOST QUEEN. And sidenote I never tired of hearing Happy, cuz if we let trap music nonsense play 30 times a day then we can let this song with a great message that makes people smile get some spins and not crap on it.
Faves- Lost Queen, Brand New featuring Justin Timberlake, Know Who You Are featuring A Keys.
______________________________________________
Elevation Worship's Wake Up The Wonder- Live from the Hornets' newly redesigned Time Warner Cable Arena in Charlotte Elevation Church recorded an album of original tunes from their amazing writers and musicians. I was at the recording and loved the songs and the vibe, I couldn't wait to preorder the album. Listening to it is like reliving the experience, super uplifting and transcendent. Singer/Songwriter type tunes & Rock music with heart and soul.
Faves- The King Is Among Us, & Ever Glorious, Look How He Lifted Me.
______________________________________________
Sharon Jones and The Dap Kings' Give The People What They Want- Heard this playing at Starbucks and fell in love. It's big band brass, it's New Orleans, it's real hard singing about heartbreak and love, and everything in between. I still need to see her and the band live. If I were a rapper trust and believe I'd be sampling a few of these tracks. So so good.
Faves- Stranger to My Happiness, Making Up and Breaking Up, Retreat
___________________________________________
Sam Smith's In The Lonely Hour- I kept singing Stay With Me, like nonstop lol. I decided on a whim to see if the rest of the album was as catchy. Given I love some Adele and Emeli Sande it was easy to assume I'd dig the album. In The Lonely Hour did not disappoint. Writing and Vocal win, happy for him and his success.
Faves- Latch featuring Disclosure (not on the actual album but sooooo dope compared to the acoustic version), Stay With Me, & Restart
_____________________________________________
Honorable Mentions and Addendum
-Aloe Blacc's Lift Your Sprit, Fred Hammond's I Will Trust, and finally The Roots' …and then you shoot your cousin. Cool enough to purchase but I need to spend some more time with them before I welcome them into the cannon.
-Beyonce's self-titled album is not in this list because it came out at the end of 2013 but you know I'm here for the Queen and played lots and lots of her music lol
-Mali Music's Mali Is album was a late addition to my ipod this year but I really really like it. So if you need some introspective writing and crazy vocals listen to Ready Aim, Fight For You, Heavy Love. I likes a lot.
____________________________________________
Okay so of course after writing this piece I want to go listen to all of this all over again. Ha. More Brown Sugar in 2015, hopefully. Be sure to check the #brownsugarapproved hastag on IG for my picks of music, and film and stuff throughout the year.
Brown Sugar is written by Andrea Michele/Angie C for Fresh Radio. Follow IG @bitofbrownsuga twitter @abitofbrownsuga and like our fb page- https://www.facebook.com/BrownSugaronFreshRadio
Email abitofbrownsugar@gmail for requests.
---