Another Fresh Friday sure shot….the legend Rich Medina will be in the building!!!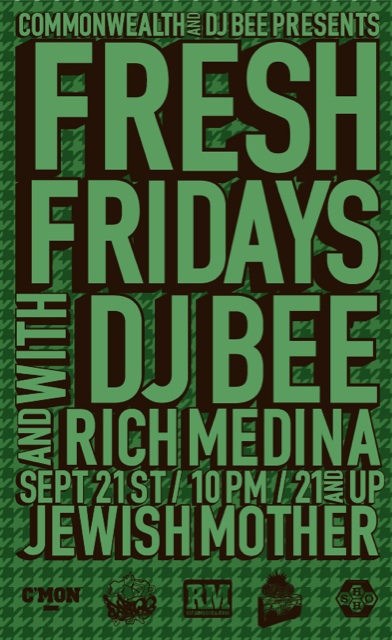 5:30a est: Fresh Radio Mixtape (Replay of Doug E. Fresh Radio) mixed by DJ Bee (Philly/VA/SMC)
9a est: Fresh House with DJ Chicago Kid (Chi/Bahrain)
Noon: Legends At Noon …DJ Melo D…Aqua Boogie…This is in my top 5 of favorite DJs
3p est: The Shelter with DJ Mista Nice (NJ)
4p est: Wildstyle with DJ Seven (NV)
5p est: Fresh Radio Mixtape (FreshLIVE@5) DJ Bee on the decks LIVE
6p est: Skratch*Makaniks Radio
9p est: The 5th Element Of Hip-Hop with DJ Bee (Skratch*Makaniks)
10p est: Subsoniq Radio
Subsoniq "Instru-Mentals" explores and promotes the deepest and dopest areas in hip-hop instrumentation. Hosted by Panacea producer and Subsoniq co-host, K-Murdock. If you love instrumental hip hop, this is a must listen. Check out our new soundcloud page where your music can be considered for future Instru-Mentals shows, you can share beats and be a part of the community and movement.