#TDIF…This Day In Freshness January 30, 2013 Happy Birthday Jody Watley and find out what sibling is in porn!
30 January 2013 TDIF
---
Happy belated birthday to Uncle Charlie Wilson.  I did a mix at 5p EST yesterday saluting him…didn't hit the record button so I will try to duplicate the mix at 1p EST today!

Today is Jody Watley's birthday!
Jody Vanessa Watley (born January 30, 1959) is an American singer, songwriter, record producer, and one of the defining iconic artists of the 1980s[1][2] whose music crosses genres from Pop, R&B, Jazz, Dance and Electronic Soul.[3][4][5] In 1987, she won the Grammy Award for "Best New Artist."[6] Along with Janet Jackson and Madonna, she ranks as one of MTV Video Music Awards most nominated female artists ever, with six nominations for her 'Real Love' video.
To date, she is best known for her role in being a pioneer setting trends and standards for dance, style, music and video.[7][1][8][9] Early in her solo career she was also noted for her commercial dance pop stylings with a funky edge.[10] Jody Watley is also noted as being the first Pop/R&B singer to include a rapper on the specialized verse/bridge with their collaboration on "Friends" featuring Eric B. & Rakim, which would become a popular formula in commercial Pop/R&B/Hip-Hop.[11][12]
In 2008, she was the recipient of a Lifetime Achievement Award from Billboard magazine, and was also prominently featured[13] in the historic black issue of Vogue Italia in 2008…..
BTW…Jody Watley's sister tho…
Active: 1996-2008
Classic Work: Asses Galore 2: No Remorse No Repent, Black Beach Patrol 6 , Freaky Tailz, Gimme Some Butt, I'm So Horny Baby, N.B.A. Nuttin' Butt Ass, Sex Hungry Butthole Sluts,
Official Website: midorimusic.net

She's the real-life sister of singer Jody Watley and the ex-girlfriend of Kid Rock, but Midori is also recognized as one of the most exciting humpers in Pornland, USA who delivered raw, primal encounters in her prime. With a background in music and dance, Midori might have been able to go the exact same route as her famous sibling, but fortunately for her fans she decided to share her other "talents" with the world. Backpack rap enthusiasts will no doubt remember Midori, who has recorded independent albums of her own, posing with Crystal Knight on the cover of the Bad Meets Evil "Nuttin' To Do" maxi-single on Game Recordings.
Why is this relevant…I don't know…Oh…I have all the Game Recording album covers and this "Scary Movies" record is dope!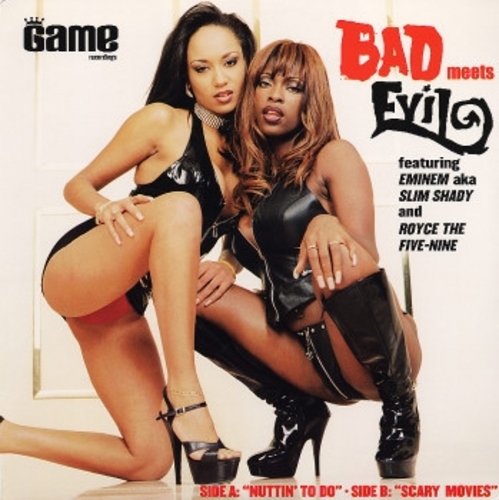 ---
DJ Bee Charlie Wilson, Jody Watley, Midori, TDIF, Uncle Charlie