Brown Sugar: The Cosby Show
27 August 2014 Brown Sugar Fresh Radio
---
8 things I learned from The Cosby Show: One lesson for each season J plus your favorite Cosby Show memories.
-Angie C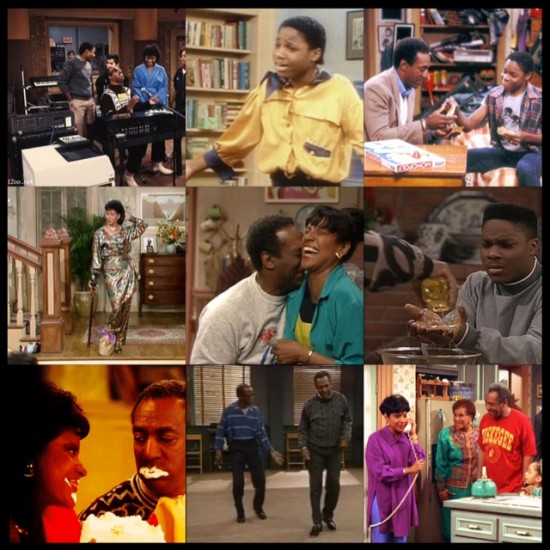 I grew up in Brooklyn,NY in the 1980s and '90s in a loving household with a married mom and dad. In my early years I didn't think there was anything different about this. My mother is a registered nurse and my dad worked as a NYC sanitation worker. We lived comfortably, traveled, and visited museums and bookstores. Education mattered and good grades, manners, and decorum were expected. As I grew older I became keenly aware that this was not the case in many other homes. However for me this was my very normal life. But to many people who looked like me this kind of life was anything but normal.
Before I realized my reality was not everyone else's I innocently enjoyed The Cosby Show assuming my most of my peers did as well. The Cosby Show was like a college course on life, a course I didn't even realize I was signed up for. Eventually I realized The Cosby Show type lifestyle wasn't everyone's reality, but I had no clue there was so much backlash. Many in my generation felt the show was a farce and didn't represent what many inner city brown 80s babies lived through. I can understand that but I think the show provided so much that people from any socio-economic group could have learned from the shows many lessons Cosby himself embedded in show. I decided I wanted to share why I loved the show and why I think the lessons taught in the show were universal.
In many cases the material on the show both commented on existing norms and thoughts while at the same time shaping a way of thinking about specific topics. Underneath the surface layer of the kids' or Cliff's shenanigans, the real "lesson" was about living a well-rounded life, communicating with your family members, and becoming your best self. Here are my top 8 life lessons from the Huxtables-
1. Culture- Pshhhh where to start? Family and Fashion- I loved how greeting a visiting family member or friend was an event in their home. Sitting on the couch to catch up and glean from the visitor. And 80s/90s fashion courtesy of Denise and Vanessa.Yassss. Playing records in the evenings, and celebrating special occasions. Everything!
2. Jazz-A love for the art form (and vinyl) and the greats popped up throughout the series. (Plus all the entertainers and artists who guest starred over the years.)
3. Art- I learned about auctions and the importance of heaving meaningful art in your home. (The painting in the living room)
4. Feminism- Claire, Claire, Claire. Long before I was old enough to know who bell, Audre, or Gloria were; Claire laid down the foundation of equality in my mind. She let me know that my accomplishments and my voice mattered in spite of and because of my gender. Lessons that came through conversations with Bud (and the thoughts of his older brother smh lol), and Elvin really shaped my thinking on why feminism was needed and what true (not abt man bashing) feminism could look like. Thank you Claire!
5. Possible Professions- Claire was a busy and successful layer in NYC, this spoke volumes. Dr. Huxtable was in obstetrics (we learned how demanding that kind of on call schedule was, and how important a good doctor was. Plus we saw handymen, musicians, teachers, entrepreneurs, and so many more.
6. Storytelling- Many, many of the episodes were centered on Cliff or some other family member telling a story. Some were significant in a historical sense, about how something or someone came to be, while others were simple like Rudy explain her day or a dilemma. We saw families gather to listen to these stories. We say closeness being nurtured. Storytelling is such an important tradition, one I hope we continue to nurture in the present.
7. Family- The writers of the show and the creator, Mr. Cosby, took great pains to ensure that many of the parts of growing up in a big family were highlighted. I was only child, so for me I was able to learn about that entire foreign side of life. Sharing clothing, giving rides, breaking toys, growing close, and growing apart. The dynamics and characterization were so well developed on the show. I also loved how one could also gather parenting advice from Clair and Cliff (that could be a book in itself).
8. College Culture- Even if it were never mentioned in my house, watching The Cosby Show meant that I knew about college and its importance. Simple things like Cliff's tees, sweaters, and pins, to stories of Hillman, visits from professors, and trips to reunions. All of those elements nurtured a love for academia and also for the social side and lastings relationships that could be made at a University. The emphasis on college led to one of THE best spin offs in TV land, A Different World *hums theme song".
So yeah those are the lessons I got from the show/course/history book known as The Cosby Show. I had so many specific show memories but I thought I'd let you share yours across the Brown Sugar social media platforms. Thank you for the outpouring of memories. Here are your favorites (Yall love some Theo stories lol)-
"Theo in the real world when they cleaned out his room!" – @brendassun
"Gordon Gartrelle!!!" Lol- @taleeheat
"Theo with his earring"- @aldonell
"For me it was the one when they made Theo pay rent w/ the Monopoly money"-@olderj
"Theo's prom night gone all wrong, Dr. Huxtable's dance-off with Rudy's tap dance instructor, Sondra and Elvin announcing they aren't going back to school but are instead working at a wilderness store, Cockroach shaving his head, Claire singing at Hillman college with their choir, the family singing with Stevie Wonder, Denise designing a terrible shirt for Theo, there are too many lol" – @cosmicinsanity
"When Theo wanted that Gordon Gartrelle shirt and Denise made him a terrible replica" –@bestablished73
"Please help….the lip syncing episode that included the whole family in tribute to the grandparents….I'm sure this adds to comments in agreement already posted ????"- @jermainelewis
"The very first episode where Cliff schools Theo about life decisions and getting an education–that really set the tone for the rest of the show's 8 year run. The Gordon Gartrelle fiasco, LOL. Tailwind Turner and Combustible Huxtable–the track & field episode. All the men were pregnant, HA!!!!! And the very last episode….Phenomenal". – Shawn Allison II
"I loved many many episodes but the one in which a group of elderly women became upset about the dented cans sold in their neighborhood store. The store in a suburban neighborhood had better selection and no dents. The wen formed a collective, made a plan and took a bunch of pennies to the store. Their actions held up the lines and caused a huge hassle. The women won their case and were granted better selections. Social Justice, community organizing, black women agency, and much more all in one episode. I'm sure I left out details & maybe mixed some things up but you probably remember that show"- Chaka S. Holley
"The Real World [episode], when Denise tried to make Theo a Gordon Gartrell shirt. LOL—that cracks me ALL the way up and the episodes with Lena Horne & BB King (loved hearing Kenny and Vanessa sing the blues)"- Tamarra J
"Me Say Ey, Mon"- Ms Pj aka Pj Leslie
"Way too many to list but a few notable mentions are: The Biiiig Fun/Wretched episode, the episode where the family tried to teach Theo about real life by pretending to be his landlord etc. and the episode where Cliff and Claire visited Sandra and Elvin's raggedy apartment! I also loved any episode in which Claire delivered one of her signature reads or when she spoke Spanish! – Ugh she is just everything. I love the Cosby show!"- Sabrina Lewis-Brown
Perfect Quote to end on! We love The Cosby Show! Its memories and lessons are ever present with us some 20 years later. Now that's a lasting impact! Thank you Bill Cosby, the producers/writers and the beloved CAST– Bill Cosby, Phylicia Rashad, Sabrina Le Beauf, Lisa Bonet, Malcolm-Jamal Warner, Tempestt Bledsoe, Keshia Knight Pulliam, Geoffrey Owens, Raven-Symone, Joseph C. Phillips,
Erika Alexander.
Brown Sugar is written by Angie C for Fresh Radio. Media and interview requests abitofbrownsugar@gmail.com Follow on Twitter and IG @abitofbrownsuga
Like us on fb- https://www.facebook.com/BrownSugaronFreshRadio
---