#TGIF Thank GOD It's Fresh, Thank GOD It's Friday…mixing starts at noon!!!
8 March 2013 Fresh Radio
---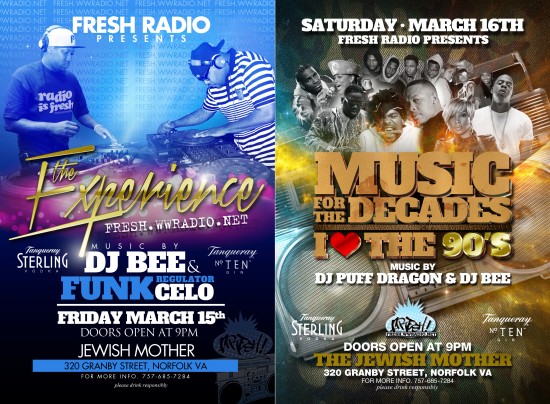 Noon EST: #LegendsAtNoon with DJ Revolution
1p EST: #Wildstyle with DJ Seven (NV)
2p EST: #TheExperience with the Supafunkregulata Celo (DC)
3p EST: #DialedIn with DJ Mista Cham
4p EST: #Eargams with DJ Jaycee (Detroit/ATL)
5p EST: #FreshRAdio Mixtape LIVE with DJ Bee (Philly/VA/SMC)
6p EST: Let the Biggie Tributes begin!!!! #SkratchMakaniks Radio with DJ Spinbad (NY) Biggie Tribute!!!
Don't forget to click Fresh Buy at the top for your Fresh Radio apparel! Also $5 early bird tickets to Saturday's Decades Meac party!
---
DJ Bee Biggie, DJ Bee, DJ Jaycee, DJ Mista Cham, DJ Revolution, DJ Seven, DJ Spinbad, Fresh Buy, Fresh Radio, Notorious B.I.G., Superfunkregulata Celo