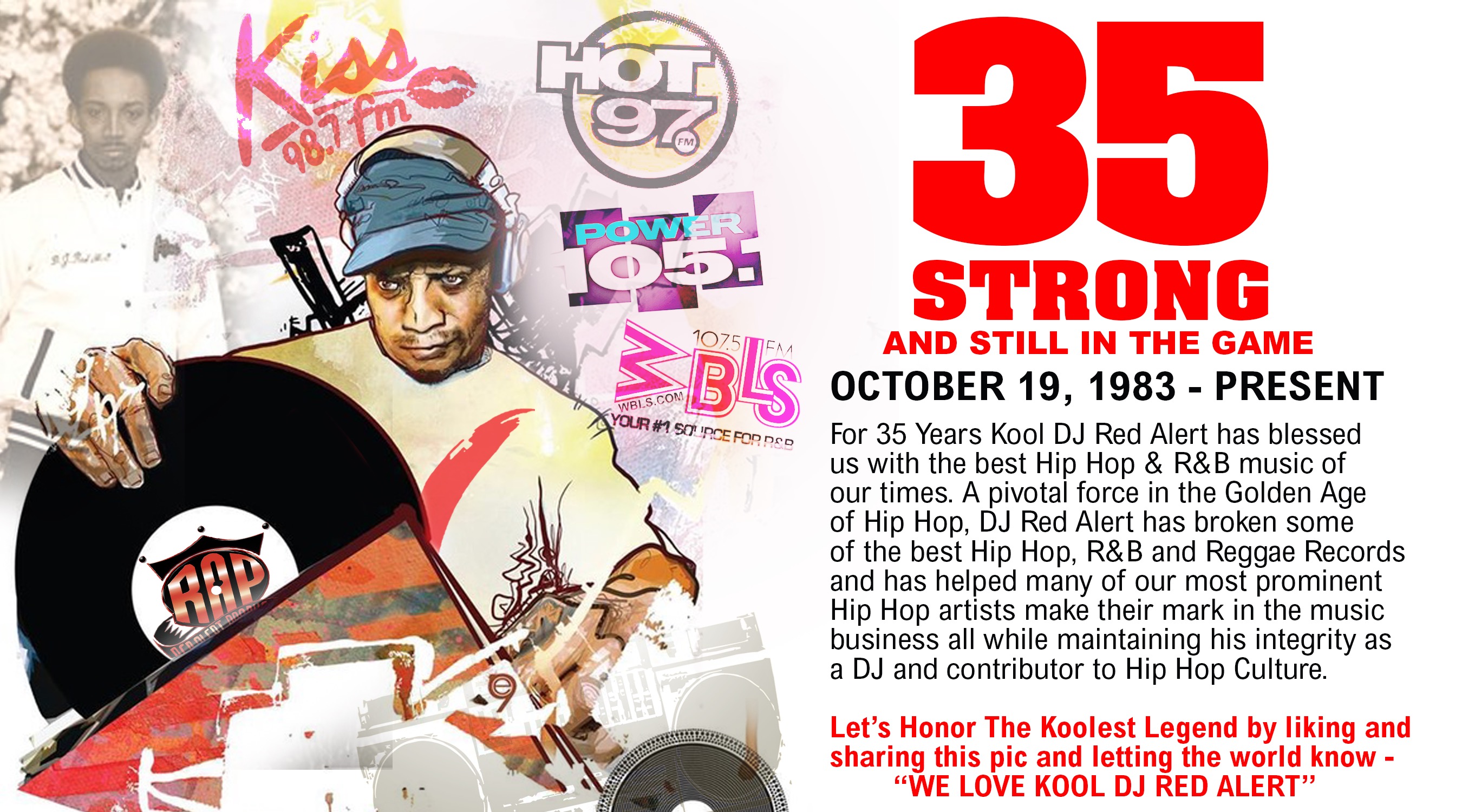 Congrats to Kool DJ Red Alert today marks 35TH Ann in radio! Message inside!
19 October 2018 Fresh Radio
---
I've Said This Before And Can't Emphasize It Enough: It's Not Too Often That People Get To Do Exactly What They Love For A Living.
I've Been Blessed To Share My Passion And Talents As A DJ Rocking Parties Since 1976, And As A Trusted Voice On The Radio. This Month On October 19th Marks The 35th Anniversary Of When I Began My Radio Career Starting On WRKS KISS 98.7 FM In New York City. Since Then, I Have Been On Hot 97 FM, Power 105 FM, Sirius Satellite And Now WBLS 107.5 FM, Which I Currently Spin During Weekdays "The After Work Mix" And "The Koolest Legend Show" Every Saturday From 6-7pm EST.
I Have So Many Vivid Memories Of Music And Photos That I'll Be Sharing With You Through The End Of 2018 On My Social Media: Facebook, Instagram And Twitter With This Hashtag…. #RedAlert35YEARRRS.
The Three R's In The Hashtag Means "Red Rockin On The Radio" And Is Reflective Of My Signature Vocal Drop "Yeahhhh!" That All Have Heard Me Say On Many Classic Songs And The Radio.
I'm Still Here 100 Percent Dialed Into Today's Hip-Hop Culture, And Seen It Evolve Through Many Stages Since It's Inception. Whether You're A Hip-Hop Legend, Music industry Professional, Or Fan Please Give Me Feedback And Comments Reflecting On Your Connections In Any Way To What You See In My Posts From Now Through New Year's Eve.
I Am Grateful To You All Being Integral For My Career.
Thank you.
— Kool DJ Red Alert
---