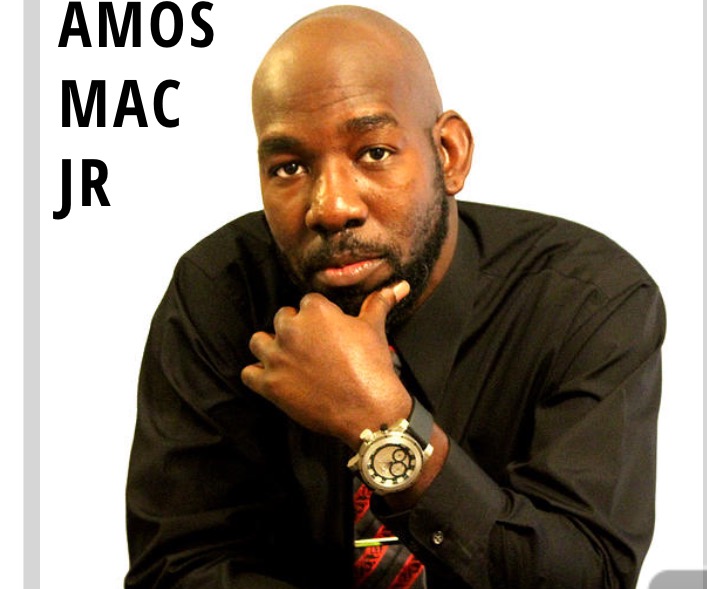 Brown Sugar – Black Man in Blue: An interview with author Amos Mac Jr.
1 January 2016 Brown Sugar
---
Black Man in Blue: An interview with author Amos Mac Jr.
" I hope my words piss you off, I hope they rile you up, make you sad, make you uncomfortable, make you excited."- Amos Mac Jr.
When I look at my facebook memories from December 2014 I'm reminded of the rage and frustration many of us felt at the time. As a community we were reeling from a constant barrage of violence. Violence perpetrated by people that were sworn to protect and serve us, the police. I wondered what is was like to be a member of law enforcement and not agree with those who treated us like less than human.What's it like to be a black man and a cop?  I got my answer when I met author and community worker Amos Mac Jr.He is a former Charlotte Mecklenburg police officer. He wrote Imprisoned in Blue under the pseudonym Amos Mac Jr because of the book's raw content. Check out our interview below and make sure to scroll to the end for his contact info and upcoming event dates.  
BROWN SUGAR- So Mr. former officer  when did YOU Fall in love with hip-hop?
AMOS MAC JR-I fell in love with Hip-Hop around age 10.  My older brother was a major influence on me and he loves rap.  He used to get a new tape every weekend.  Since I always ran behind him trying to emulate what he did, I began listening to rap too.  The first album I recall really enjoying was Mic Geronimo's 'The Natural.'  Ever since then I've been in love with rap and this beautiful culture of hip-hop.
BROWN SUGAR- When did you fall in love with writing?  Do you remember your first poem/story you wrote ?
AMOS MAC JR- I remember writing some as a child, but I didn't fall in love with writing until my college years.  When I came home during holiday breaks or during the summer I used to write lyrics.  I wasn't aspiring to be a rapper, but I loved the challenge of putting words together in rhythm with a beat.  I still remember portions of my first verse.  It started off with "what's poppin' cuz, that kid igniting a buzz, I spit crack essentially like the shipment of drugs….." lol or something silly like that.
BROWN SUGAR-What led you into law enforcement?'
AMOS MAC JR- There has always been an uneasy relationship between law enforcement and community or at least what I have experienced.  People always spoke negatively about cops. I wanted to be the cop  I never saw growing up.  Also, I met some cool resource officers who were brothas and they were no different than me, so I thought this would be a good way to make a difference.  After working the job for a while I realized this was way bigger than me.
BROWN SUGAR-How did it feel being a black man on the force?  What were your feelings during incidents like those involving Eric Garner, Tamir Rice, and Jonathan Ferrell?
AMOS MAC JR- I felt like I was fighting a battle on three fronts.  It's difficult being a young black man in this world in general, so there are many obstacles there.  Being a cop is difficult because of the nature of the job as far as safety and it being a thankless job.  There's this notion that because officers are under the umbrella of law enforcement that we all feel the same.  All teachers, businessmen and women, employees in healthcare, and any other profession don't all view things the same just because they're in the same field as others.  Many times I felt like everyone else when it comes injustice.  The only difference with me is I understand protocol and I've been in situations where I felt threatened. But before being a cop, I was and am a black man.  I know I couldn't do certain things as other cops and get off.  Sometimes I felt numb because by me continuing to do the job I felt I was supporting the mistreatment of people.  Then I felt if I left how can I help that situation because people need a cop like me out there.
BROWN SUGAR-Was there a life changing moment for you during your career as an officer?
AMOS MAC JR-  Nah I wouldn't say  there was one  particular moment changed my life. But the entire experience overall changed me. Sometimes I view people differently. While I was an officer I started to feel like I was only a number. It felt like the 'brotherhood' notion only applied to some of us. There were a few situations where officers were slow to back another officer up because they have certain feelings about the officer. That was a turnoff because this is my life and if someone felt a certain way about me and was slow to back me in a situation then that puts me in a jam. The vast majority of officers aren't like that, but some are.
BROWN SUGAR- What made you write "Imprisoned in Blue"?
AMOS MAC JR- A few reasons. Some people view police as robots, forgetting their human. There has been disconnect between the community and police for years.  I feel this book is a way to show how some officers feel and that may change perceptions of cops.  I don't speak for every cop, but I am a voice for many officers.  Also, I felt my perspective adds a unique dynamic because I'm a black man before being a cop and that in itself is interesting.  I wanted my book to make readers think, get upset, expose them to different things, debate, and force dialogue.
BROWN SUGAR- Talk to me about the writing and publishing process
AMOS MAC JR-The longest and most difficult part is the actual writing.  After writing the other steps fall into place fairly quickly as far as self-publishing goes.  I had people help me with the process and it's definitely a learning experience.  If you want to write a book, go for it!  I feel many people don't do it because the process intimidates them.  It is hard work don't get me wrong, but it's not as hard as people may think especially with research and building with people who've already done it before.
BROWN SUGAR- Do you have a  favorite section of the book?
AMOS MAC JR- Honestly, I don't .  Each section is an experience I had whether directly or indirectly, so that shapes my overall experience.  A few sections stand out to me though because it was a different form of expression for me.  "Cops Love", "Rant", "Traitor", "Sign Up" and "Not Free" are a few that stand out to me because of the writing tone, but I can't say that I have a favorite.  I'd say everything is my favorite because it contributed to the formation of the book.  There are a lot of emotions imprinted on these pages. They're all something I lived and experience in some form or fashion, so there's no particular favorite.
BROWN SUGAR-  Do you plan to share your pieces publicly?
AMOS MAC JR- Yes I do.  I have actually read a piece at an open mic night recently.  I'm going to schools and different settings to talk with kids in a sort of a Q&A forum.  Like I mentioned before I want a dialogue to stem from my book, so people can learn from one another.
BROWN SUGAR- Now that you're off the force how will you continue working with the community?
AMOS MAC JR-I'm always going to work within the community because I feel I owe it to the community to invest something which no one can get back and that's time.  That's the ultimate gift.  I was fortunate to have my mom and dad in my life and so many others didn't have that.  Currently, I work within the community with kids doing programs such as mentoring.  I feel young children need to constantly see positive imagery in the form of adults.  There are many ways to be successful in life and too many of us aren't exposed to them. It's more to life than what kids see on TV and I want to be an individual to help spread that message. You know let them know they have CHOICES.
BROWN SUGAR-  Any future projects on the horizon?
AMOS MAC JR –Yes!  I write often and I'm actually working on another project now.  "Imprisoned in Blue" is not the only thing I have to offer.  Stay tuned!
You heard the man! Stay tuned I have a feeling we'll be reading a lot more from Amos Mac Jr. Visit his website to purchase the book, IMPRISONED IN BLUE.
Amos Mac Jr's  Upcoming Events-  Mass Incarceration & Racism Forum
Sunday January 17 from 4-530p Location: Center for the arts at Emory & Henry College campus
Contact Amos Mac Jr. at www.macvisionz.com Twitter/IG @amosmacjr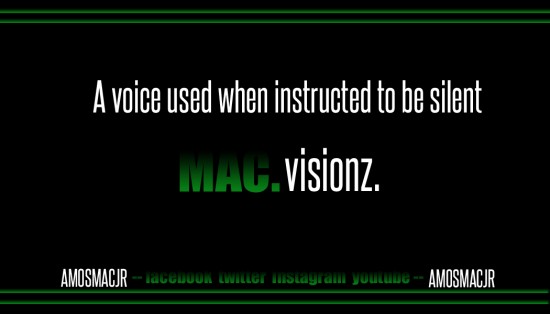 Brown Sugar is written by Angie Cee for Fresh Radio. Email abitofbrownsugar@gmail.com Follow online IG abitofbrownsuga Facebook – https://www.facebook.com/BrownSugaronFreshRadio
---