Join #FreshRadio tonight as we celebrate 2 years of quality programming…#FreshForTheCure fundraiser and all female edition #FreshFriday …I'm only spinning from 10 to 11 then the ladies will run dis!!!!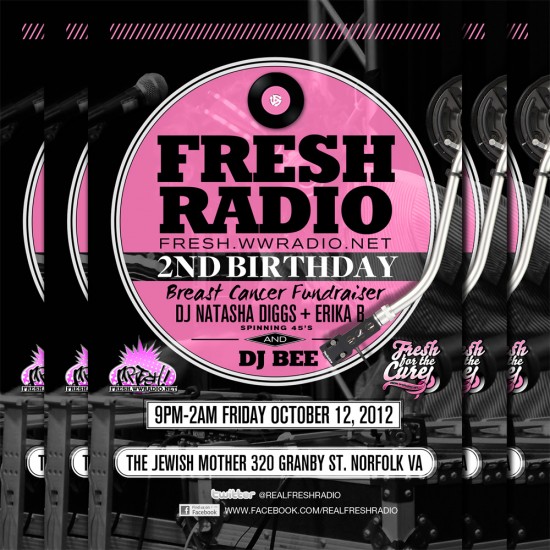 Speaking of ladies…Happy Belated Birthday to MC LYTE 10/11/71
MC Lyte was born Lana Michelle Moorer in Brooklyn, New York, on this day in 1971.
Lyte was signed to First Priority Records in 1987 and released her classic debut album "Lyte As A Rock" the following year, becoming the first solo female rapper to do so.
The classic album featured such hip-hop classics such as "10% Dis", "I Cram To Understand U (Sam)" one of the first rap songs about crack addiction, and the hit single "Paper Thin."
Her brothers Milk Dee and Gizmo, who made up the duo Audio Two, also appeared on the album as well.
Lyte released her sophomore set "Eyes On This" in 1989. The album produced two more Lyte classics "Cha Cha Cha" and "Cappucino."
Lyte has released five albums since then, most notably 1991's "Act Like You Know" which contained the classic "Poor Georgie", 1993's "Ain't No Other" which featured the hit single "Ruffneck" and 1996's "Bad As I Wanna B", which featured the smash hits "Cold Rock A Party" (featuring Missy Elliott) and "Keep On Keepin' On" produced by Jermaine Dupri and featuring Xscape.
Throughout her career Lyte has collaborated with a slew of artists like Janet Jackson, Brandy, The Roots as well as appearing on the posse track "Sticka" featuring Ice-T, Ice Cube and Yours Truly off of Terminator X's 1994 album "Super Bad."
Lyte is also an accomplished actress appearing in several films such as "Playas's Ball", "A Luv Tale", "Fly By Night", "Civil Brand" and "Train Ride."
Lyte has also done extensive television appearing on "New York Undercover", "In The House", "Half & Half", "The District", "MTV's Celebrity Rap Superstar" and "Moesha", to name a few.
In 2006, Lyte was honored at VH1's Hip Hop Honors annual gala where fellow lady MC's like Da Brat, Remy Ma and Lil' Kim performed some of her biggest hits.
MC Lyte has also been involved in the fashion industry opening a clothing boutique called Shaitel in Los Angeles, California.
In 2006, Lyte donated personal items such as turntables, records and other items from the early part of her career to The Smithsonian Institution.
MC Lyte has also had a successful career in voiceovers, doing ad work for popular corporate brands.
MC Lyte has also been named President of The Los Angeles Chapter Of The Recording Academy, becoming the first African-American to do so.
MC Lyte has also started "Hip Hop Sister Network", where female hip-hop artists have a platform to share their talents and network.
MC Lyte has also started "Hip Hop Sisters Foundation", a non-profit organization which educates youth around the world on subjects as diverse as financial empowerment, health and wellness, educational opportunities and mentorship. Advisory board members count Russell Simmons, Faith Evans, Malcolm Jamal Warner, Jada Pinkett Smith, Melanie Fiona, Kelly Price and Dr. Benjamin Chavis as members.
In 2012, MC Lyte announced a scholarship fund where a recipient will receive a $100,000 scholarship for school.
MC Lyte is a pioneer and one of the most respected female MC's in hip-hop history.