Celebrating Breast Cancer Awareness in the 757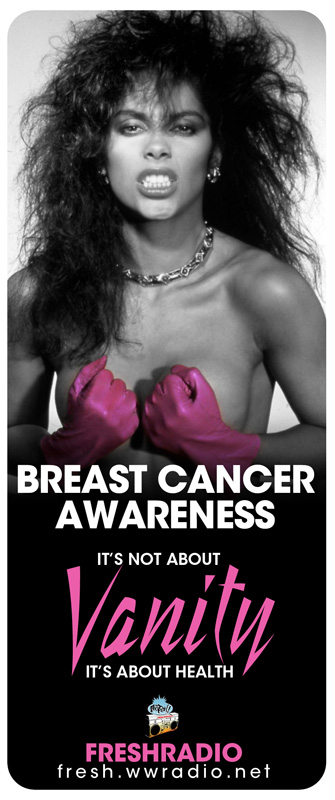 October has been designated as National Breast Cancer Awareness (BCA) Month. There are so many ways to support and the Hip Hop community in Hampton Roads is taking part as well. Besides wearing a pink ribbon, what else can you do?
Make sure you get regular mammograms and conduct self-checks of your boobs while lying down and while in the shower.
Encourage your family members male and female to take charge of their health and choose healthy options and increase their exercise.
GIVE TIME- everyone doesn't have money to donate to the many different causes but there are many cancer treatment programs that can use you to help patients doing treatment and post treatment.
Here are some amazing companies in the HAMPTON Roads Area making a difference by raising funds and/or awareness:
Right here on the FRESH RADIO site visit the FRESH BUY store – for "Fresh for the Cure" tees and hoodies. When asked why the Fresh Radio Brand was supporting BCA month Fresh Radio creator,  DJ Bee said this "Fresh Radio is a part of the Hip Hop Culture.  The culture of Hip-Hop teaches and helps with awareness in the community so what's better than a flyer? The message on somebody's back!"  Nuff said!
On Friday, 10/12 DJ BEE, DJ Erika B from right here in Hampton Roads and Natasha Diggs from NYC will be in the building for a special PINK edition of FRESH FRIDAY spinning ALL 45sm ALL vinyl, there will be merchandise including tees, wristbands and hoodies  available for sale at the Jew Ma on Granby St 10p-2a. The all Pink Fresh Friday is also the TWO YEAR anniversary of Fresh Radio established 10.10.10!!!!!!
The next day  Saturday, October 13th Join Kim Wimbish  & KMK Productions who will be walking on the VB  Oceanfront in the … later that afternoon from 3-8pm they will be hosting a "Fashion for the Cure" Trunk Show.  Kim is hosting BCA events for the 2nd year and is looking forward to raising awareness funds to find a cure for Breast Cancer. Raising funds and awareness is important to Kim firstly because her MOM is a survivor and secondly because it's one of the biggest killers of African American Women.  For information and vendor opportunities hit Kim @kimwimibish on twitter or 757-309-8227
DJ Hasz's FSHOA (Future Sneaker Heads of America) brand is featuring dope hoodies for BCA, where the breast cancer logo is a pink sneaker lace, perfect for the sneaker lovers in your life.  When asked why he chose to support BCA, Hasz said " I chose pieces for bca because alot of people I know directly or indirectly has lost loved ones to Cancer. I personally haven't lost anyone. But cancer doesn't discriminate: any race, any gender. I figured why not help out by making a few garments and giving the proceeds to Susan g komen foundation. "You'll find a few other pink goodies on their site as well.  Get connected with the Sneaker Heads- Www.fshoalife.com Www.facebook.com/fshoa   Twitter: @fshoalife  Instagram: @fshoa
*Kim's KMK AND DJ Hasz's FSHOA are teaming up to find a cure, when you sign up to donate and walk with KMK you also get a FSHOA tee shirt.
Check for other area events and information
- http://hamptonroads.com/events
- http://www.sistersnetworkinc.org/
- http://www.washingtonpost.com/blogs/therootdc/post/breast-cancer-mortality-rates-for-african-american-women-disproportionately-high/2012/04/09/gIQAxJoR6S_blog.html
Brown Sugar is written by- Andrea Michele @brown_sugar415 on twitter. Don't forget your VOTE is your VOICE, Make it COUNT.